OZX SMS client
This guide is about OZX client connection setup. It defines what an OZX connection is, what does OZX stand for and how you can use an OZX client connection to connect your Ozeki SMS gateway system directly to the Short Message Service Center (SMSC) of a mobile network operator over the Internet.
What is an OZX connection?
An OZX client is a software that allows you to connect to an SMS service provider on the Internet. An OZX client, such as Ozeki SMS Gateway, uses the OZX protocol to send and receive SMS text messages.
How to connect to an OZX service (Easy to follow steps)
To connect to an OZX service:
Browse https://localhost:9515
Login using your username and password
Click on "Add new connection"
Select "OZX client"
Enter the OZX host name and port
Enter the telephone number
Click ok and send a test message
Check the logs
How to send SMS through an OZX client

How to connect an OZX connection (video tutorial)
The following short video shows the steps you need to create to setup an OZX client connection in Ozeki 10 SMS Gateway. The video starts with the login form, and takes you all the way to sending your first SMS test message over the newly created SMPP connection.
Detailed setup instructions
Setting up an SMS connection in Ozeki SMS Gateway is a relatively simple procedure. You need to login to the SMS gateway using a web browser as administrator, and you need to perform a few simple steps. For configuration we recommend to login using the administrator account. The administrator account username is "admin", and the password is the one you provided during install.
How to create a new OZX connection
To create a new OZX connection after login, you need to click on the 'Add new connection' link in the management console of the Ozeki 10 SMS Gateway app. This will bring up a list of available protocols. You will have to select OZX client from the list. Note, that an OZX client connection is used if you wish to connect your SMS gateway to an SMS service provider over the Internet. (If you wish to provide an SMS service, and you want your customers to connect to your SMS gateway over OZX, you need to setup an OZX user account and you need to configure an OZX service.)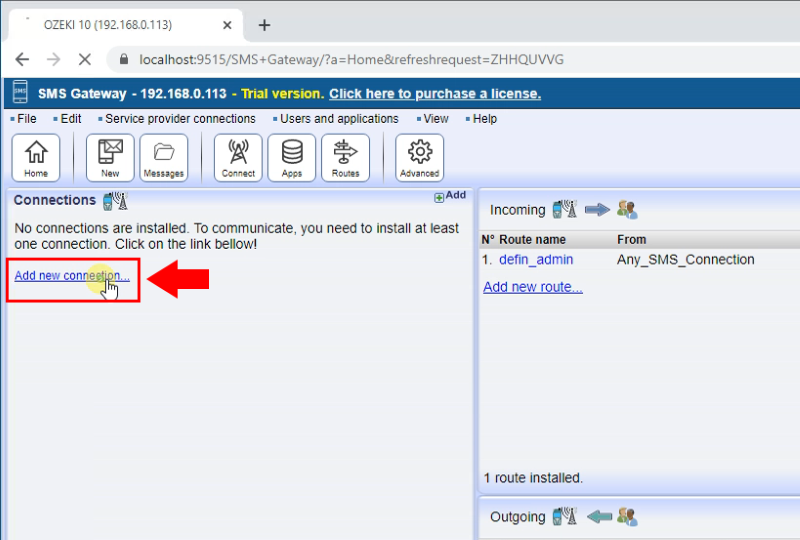 Select the 'OZX Client Connection' from the list and click on install next to it.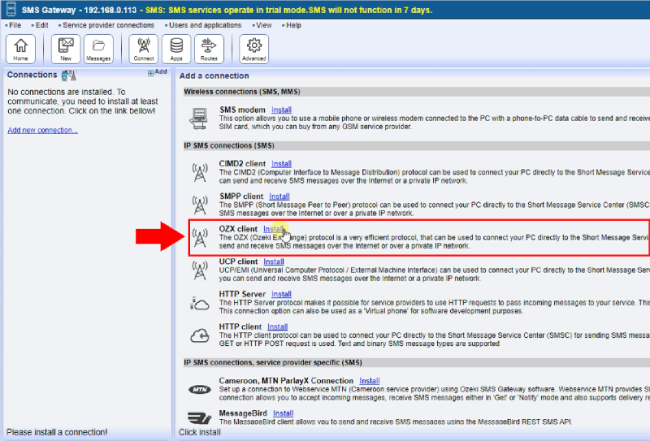 Configure your OZX connection
In order to configure your OZX connection, you need to provide the host name and port number of the OZX service, your OZX credentials and your must specify telephone number associated with this connection. There could be more than one phone numbers associated with this connection. In this case provide the first one and check the overridable checkbox. If this checkbox is checked, you will be able to use all phone numbers as sender IDs.
OZX connection configuration steps:
Select the General tab on the OZX connection form
Give a name to this OZX connection
Enter the OZX hostname
Enter the OZX port number
Provide your OZX username
Enter your password
Assign a telephone number to this OZX connection
Click OK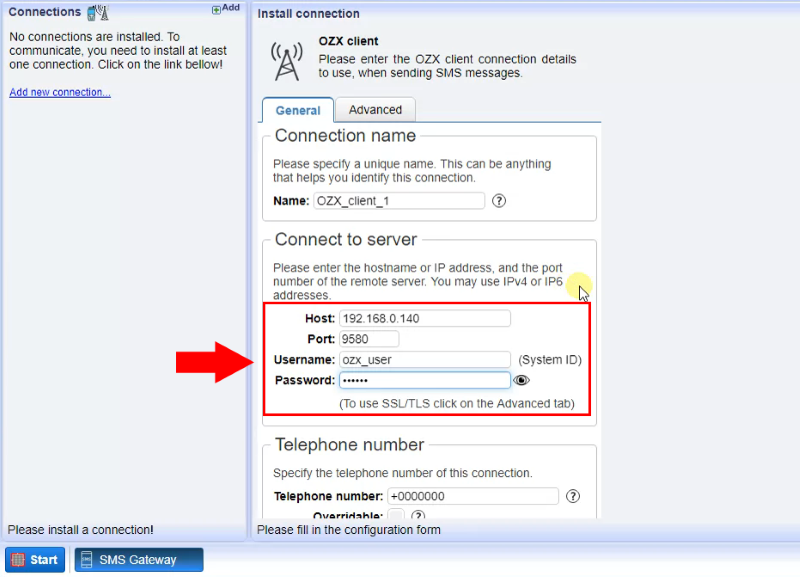 It is important to mention that the OZX hostname and port plus the username and password are provided by your SMS service provider. For example if you contact Vodafone, and ask for an OZX SMS service, you will sign a contract with them, and often an attachment of this contract will contain the connection following information. If you subscribe to an SMS service on-line, you will likely find this information in the on-line control panel of your SMS service provider. Of course you can always ask your SMS service provider in e-mail and ask what are the OZX server connection details.
Check the OZX log
Once the OZX connection is configured, you should check the OZX connection log to see if the system connected properly to your SMS service provider. If the system connected properly you will see the "Connection online" log entry. The SMS connection logs can be found in the following directory in Windows: C:\Program Files\Ozeki\Data\Logs\Connections\. In this Event tab of the OZX connection's details page, you can see a preview of the log. This page contains the last 100 log entries. Note that the OZX log files are rotated to save disk space.
How to view the OZX connection log:
Open the OZX connection's details page
Click on the Events tab
Click on the eye icon next to the Events title
Copy the file name next to the Events title
Open notepad
Paste the filename into the File/Open dialog in notepad
Click OK to open the OZX log file
Use F3 to find the date you are interested in
Search for "ERRO" to find errors in the log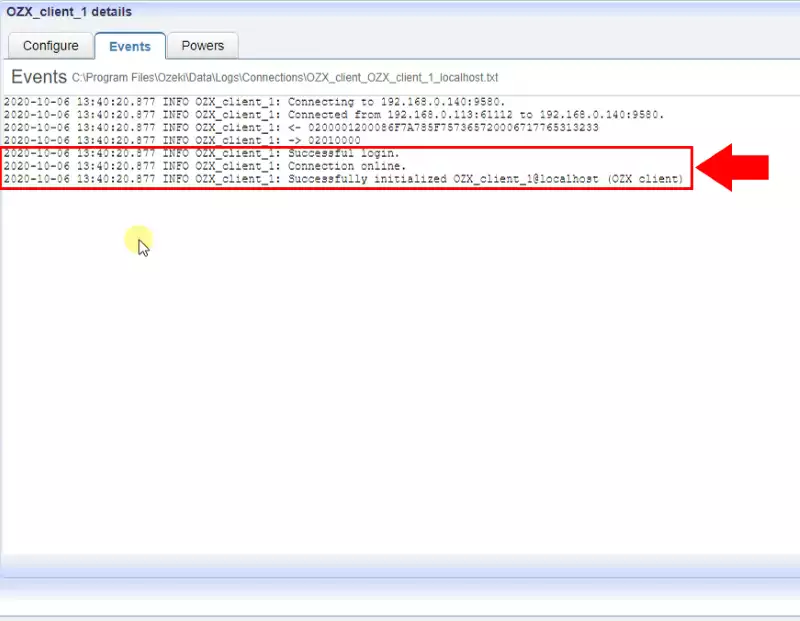 Send a test SMS message
Once your connection is connected, you can check to see if it is ready to deliver SMS messages by sending a test SMS. To send a test SMS message, you need to open the Admin user, and you need to enter the phone number and message text. It is recommended to provide the phone number in international format. This means the phone number should start with a plus sign followed by a country code. If your local phone number starts with a 0, it is likely that you will need to drop the 0 prefix. For example if your UK phone number 07958663698, you would send the test SMS to +447958663698.
How to send a test OZX message:
Navigate to the Admin connection's details page
Select the New tab
Enter the recipient phone number
Make sure the phone number is in international format
Enter the message text
Make sure the message text is less than 160 characters
Click on the Send button
Check the OZX logs
You might ask why should the message text be less than 160 characters. This is because GSM system was designed to send 160 character long text messages. If a message is longer, it will be split into multiple message segments, and will be delivered in more than one SMS message.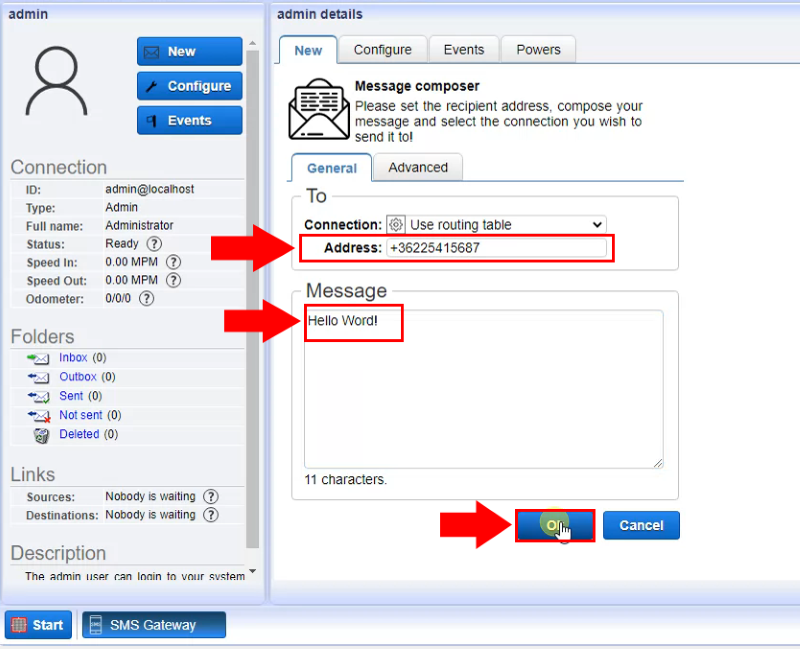 After the message is successfully sent, you should check the OZX logs. The OZX logs will reveal the low level OZX messages, that are used to pass the message content to the SMS service provider. These messages are also called an OZX PDU (OZX protocol data unit). If there is a problem with message submission, your SMS service provider will ask for the OZX logs. In this case, you need to send the OZX PDUs to them. For every SMS submission, two OZX PDUs will appear in the log.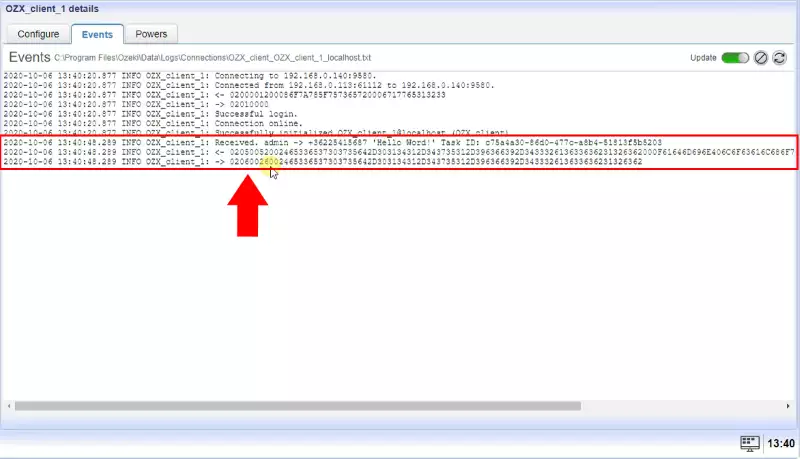 Conclusion
This article explained how to set up an OZX connection using Ozeki SMS Gateway. An OZX connection allows you to connect to the SMSC of a mobile carrier or to another Ozeki SMS Gateway service effortlessly and the connection will be very reliable and will offer amazing speed. The main advantage of using OZX is that all messages will be sent using a single transaction unlike other SMS protocols, such as SMPP, CIMD2, UCP where long SMS messages are sent in multiple transactions. This simplicity is better when it comes to controlling costs and keeping track of messages.
As you could see OZX is a better protocol for message delivery, because it offers simplicty and better peformance. If you want to build a reliable, high performance system you should not stop reading here. Find out how you can setup a test system in your neetwork that is able to delivery 1000 SMS per second. This amazing speed can be achieved with Ozeki SMS Gateway.
To create your first high performance SMS gateway sstem, now is the best time to download Ozeki SMS Gateway!