---
UCP SMS client
In this chapter, we will connect an UCP sms client (UCP sms link) to an SMS service provider and show you all steps necessary to setup this mobile network connection. There are two UCP sms connection modes: one uses a simple TCP/IP link, the other uses SSL/TLS over TCP/IP. The connection steps presented in this chapter are for a simple TCP/IP link.
What is an UCP/EMI sms connection?
An UCP/EMI sms connection is mobile network link that you can setup to connect your SMS gateway over the Internet to the Short Message Service Center (SMSC) of a mobile network operator. UCP/EMI is the communication protocol used over this link.
What does UCP/EMI stand for?
UCP stands for Universal Computer Protocol. EMI stands for External Machine Interface. This is the name of the protocol developed by CMG Wireless Solutions Inc.
Connection steps
Open the https://localhost:9515 URL
Login with your username and password
Open "Add new connection"
Click on "UCP client"
Type in the Hostname and port
Enter the UCP OAdC and password
Enter the telephone number
Send a test message
Detailed setup
The following screenshots show you the detailed configuration steps to take to setup an UCP SMS connection in Ozeki SMS gateway. These steps are easy to follow. The setup procedure usually takes around 2-3 minutes.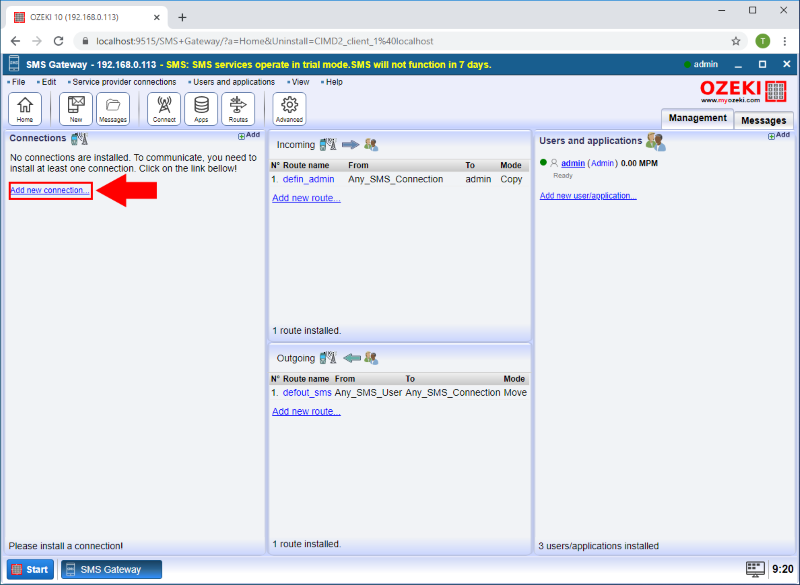 Select the UCP Client connection from the list and click Install (Figure 2).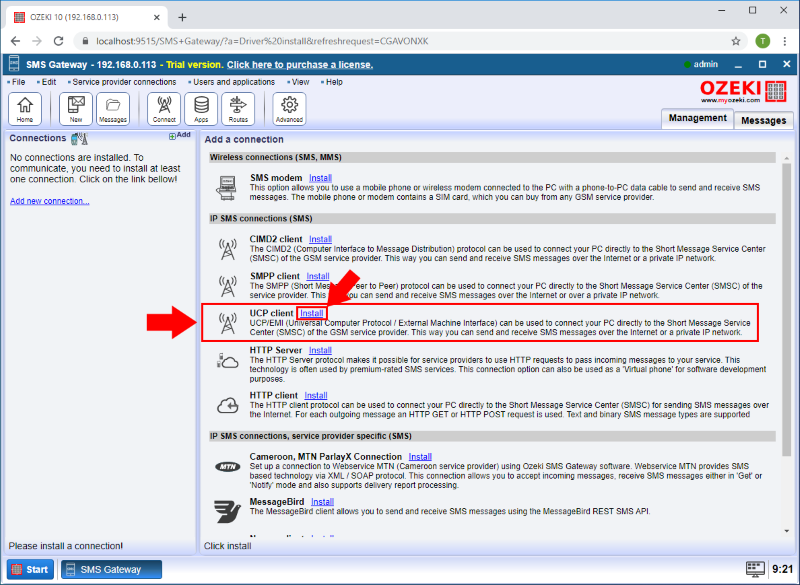 Now enter the contact details like Host, port, username and password. And enter the phone number that the SMS Gateway uses to send the message. Finally click on the OK button (Figure 3).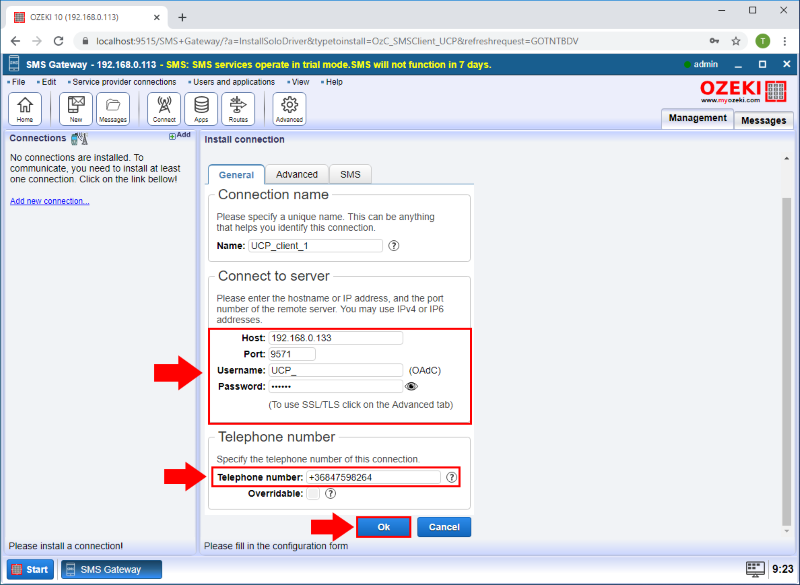 In the Events tab you can see the logging of the latest server events. As you can see on the Figure 4 the login is successful.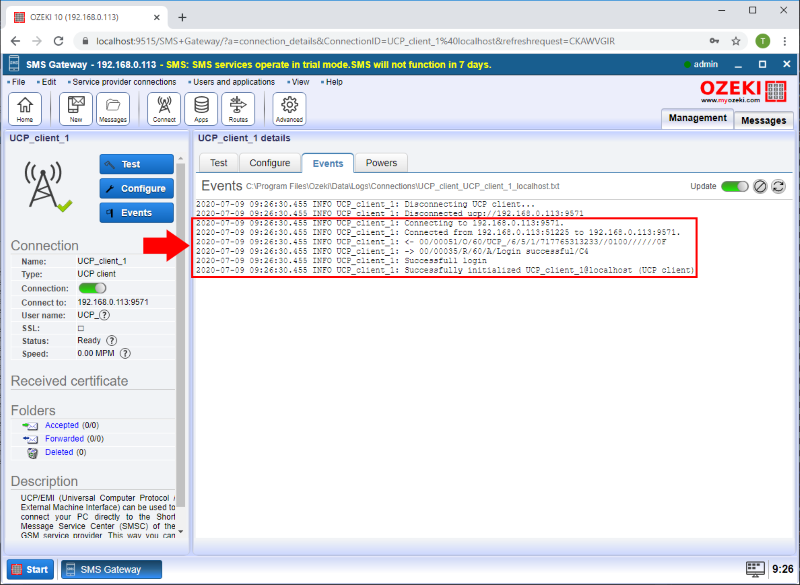 From the Test tab you can send test SMS message. Provide the recipient address, the message and click on the Send button (Figure 5).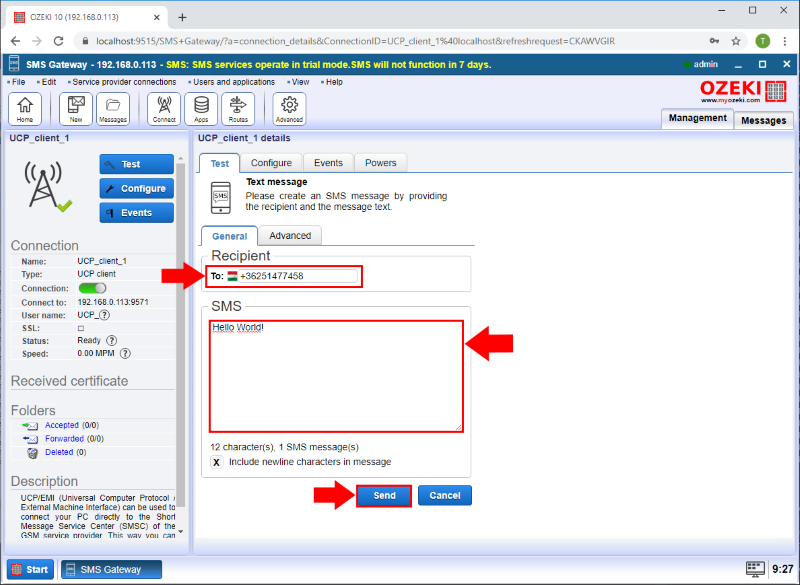 Finally you can see if the message is sent successfully (Figure 6).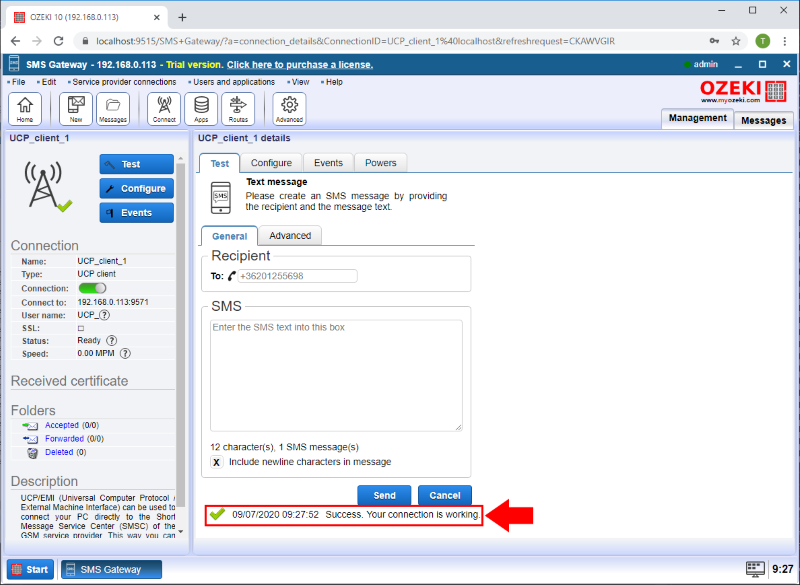 Example UCP PDU
The following example UCP PDU is a login PDU sent by the SMS gateway to the SMSC

<- 00/00051/O/60/ucp1/6/5/1/717765313233//0100//////41

-> 00/00035/R/60/A/Login successful/C4


The next is an UCP submit message PDU, used to send an SMS to the SMSC.

Sending message (1 parts). +3620123546->+3620123456 'Hello world'

<- 01/00106/O/51/003620123456/3620123546//1//7////
/////////3//48656C6C6F20776F726C64////////1139//020100///A1

-> 01/00045/R/51/A//003620123456:200718075707/A2

Message part sent as sequence 01 was accepted by remote server.  with Reference 
Id: '200718075707'.


The above PDUs were extracted from the Ozeki SMS Gateway logs.
Where can I find the UCP protocol specification?
---
---