How to send SMS from Outlook 365 through Exchange
In this guide you will learn about the configuration steps necessary to setup an E-mail to SMS gateway through Microsoft Exchange and Ozeki SMS Gateway. You will see how you can send an e-mail from Outlook to an e-mail address in the format of +441234567498@domain.com, and how this e-mail will be converted routed by exchange to the built in E-mail (SMTP) server of Ozeki SMS Gateway and how it will be sent as SMS.
Overview
Our setup consists of 5 major components: We expect the messages to be sent from Outlook through an Exchange server. Next the Exchange server will forward the messages to the SMS gateway as an E-mail, which will convert it to SMS and will forward it to the mobile Network (Figure 1).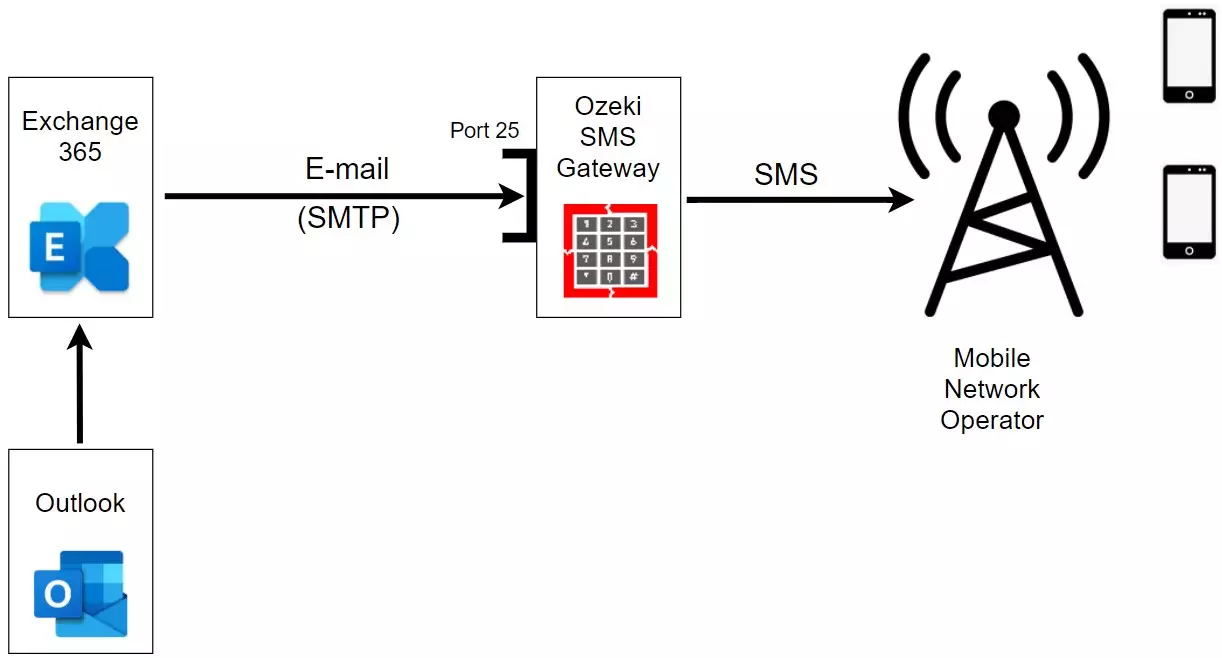 Creating the solution in 12 minutes
To create the solution you need to follow the instructions in these Guides:
1. Connect your SMS gateway to the mobile network (2 minutes)
2. Configure the SMTP service in your SMS gateway(2 minutes)
3. Configure you Windows firewall (2 minutes)
4. Setup Microsoft Exchange to forward messages to your SMS gateway (4 minutes)
5. Send your SMS from Outlook 365 (2 minutes)

Section 1 - Setup your SMS gateway
The first step you need to take is to connect your SMS gateway to the mobile network. For this there are various options. In our guide we provide SMPP sertup insturctions. After you system is connected to the mobile network, you need to configure the built in SMTP server of Ozeki SMS gateway to accept e-mail messages. Video 1 explains these two steps. After this step you may need to open port 25 on your windows firewall to allow e-mail messages to come into your SMS gateway.
Video 1 - Connecting your SMS gateway to the mobile network and configuring the SMTP server
Section 2 - Setup Microsoft Exchange to forward SMS
In this video we use the Exchange server that comes with Office 365. This Exchange server resides in the Microsoft Azure cloud, and is already setup when you purchase an Office 365 subscription. To configure this Exchange server to forward messages to the SMS gateway, you need to create a mail connector (Video 2).
Video 2 - How to configure SMS forwarding in Exchange
Section 3 - Send your first SMS from outlook
Once your Exchange server is configured for SMS forwarding, you are ready to test it from Outlook 365. To send SMS from Outlook 365, you need to create an new E-mail. You will have to format the e-mail address to include the phone number you wish to send the SMS to, and to use the domain you have provided when you have configured your Exchange server for SMS forwarding. For example you can user +44123457@sms.gw to send an SMS to +441234567. The SMS messages text will be the E-mail subject and the E-mail body combined (Video 3).
Video 3 - How to send and SMS from Outlook
Section 4 - Trace your SMS in the logs
It is a good thing to know how you can trace your messages in the logs of the SMS gateway. Video 4 shows you the steps to take to open the relevant log forms of the SMS gateway to see where the E-mail comes into the system and where the SMS goes out to the mobile network. Note that if you don't see any incoming traffic in the SMTP server, you might have a firewall setting that blocks incoming SMTP server traffice, or you might have configured the IP address of you SMS gateway incorrectly in Exchange.
Video 4 - How to trace your SMS in the logs
Summary
The purpose of this short article was to explain how to send SMS from Outlook through Microsoft Exchange with the help of Ozeki SMS Gateway. This solution makes communication possible between email clients and mobile users. Ozeki SMS Gateway helps the conversion and distribution, so if you followed the steps above carefully, a fully operational email-to-sms chain is ready to be used for you or your company.
Learn more about the email to SMS solution in our page, where we show you how to use tools like Gmail or Thunderbird in this process.
Your next thing to do is to download Ozeki SMS Gateway and start using it!
More information