---
SMS to E-mail and E-mail to SMS
If you wish to send (and receive) SMS text messages to mobile phones using E-mail Ozeki 10 SMS gateway is a great choice. You can configure it as an E-mail client to interact with your company's E-mail server as any other E-mail client would or it can act as a standalone SMTP service. Check out the following options and select the solution that best fits your needs
Option 1 - Setup Ozeki as an E-mail client
This option is the most popular setup, because in this configuration Ozeki will connect to your existing E-mail infrastructure, and you don't have to make any changes to your existing systems. In this setup Ozeki will download the E-mail messages to be sent periodically using the POP3 protocol and will forward them an SMS to the mobile network. If an incoming SMS message comes in, it will connect to your E-mail sever as an SMTP client and pass the messages to it through the standard SMTP protocol. This solution will work will with your company e-mail system (and it can even be used through G-mail).
Read more about how to setup E-mail to SMS forwarding using POP3 and SMTP client.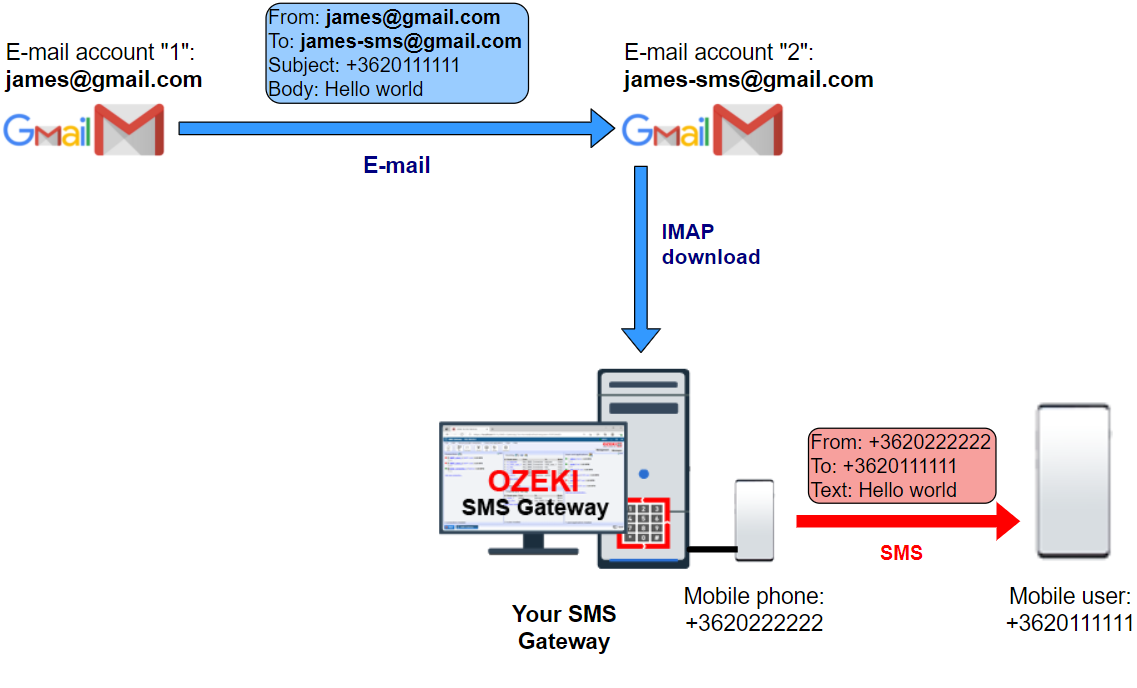 Option 2 - Setup Ozeki as an E-mail server
This option is recommended if you can control your Domain Name Service (DNS). If you can create an MX record in your DNS server that points a domain name to your SMS gateway, you can forward E-mail messages to the SMTP server built into Ozeki SMS Gateway. For example you can setup smsgw.mycompany.com to point to your SMS gateway, and you can send e-mails to this domain in the format +441234567@smsgw.mycompany.com. In this case the built in SMTP server will convert the e-mail messages to SMS, and it will send these messages to the phone number provided in the e-mail address prefix.
Read more about how to use the built in SMTP server for E-mail to SMS forwarding.

Option 3 - Direct e-mail clients
This option provides you a setup that makes it possible to use Ozeki SMS Gateway with other e-mail clients like Mozilla Thunderbird or Windows mail. In this setup, the SMTP and POP3 servers integrated in Ozeki SMS Gateway need to be connected to the e-mail client. After you connected them to the e-mail client, it allows you the forward SMS to e-mail using the SMTP server and forward the e-mails as SMS messages with the bulit-in POP3 server in SMS Gateway.
See how you can configure direct e-mail client to forward e-mail and SMS messages

---
---